I'm having a ton of fun so far, and I've barely made it out of the section I already played in beta. XD Here we have a few photos of things that made me laugh or squee while I was playing my wizard! (Also, I play with spoiler tags for a change :P click the links to show the pictures)
First, da wings. XD I have a collectors' edition - kind of by accident, I forgot that I'd pre-ordered one a loooong time ago - and one of the things it gives you is the ability to put Tyrael-type wings on your toons. They don't suit the barbarian, demon hunter, or witch doctor IMO, but man they suit the wizard and monk!
Second... um, Blizzard developer-type people, did you have to make the wizard's Town Portal cast pose look silly to counteract his general awesomeness? 'Cause he REALLY looks silly, and he
bounces
while he's doing it. XD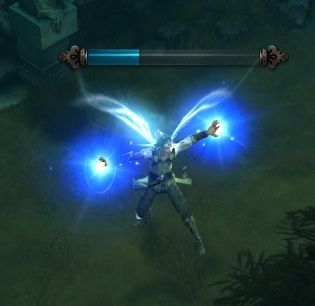 And third, I swear, I killed one of those retching cadaver mobs and it looks like I
blew her pants off
. Really! Tell me this pic DOESN'T look like her undies are down around her knees!